Monarch Business School Switzerland is very proud to acknowledge the recent teaching award given to Prof. Mireille Barosum for her accomplishments at Nile University. Dr. Barsoum is a medical doctor presently completing her PhD in Marketing at Monarch. Concurrently with her Doctoral studies, Prof. Barsoum teaches within the Bachelor of Business program at Nile University. She also holds teaching responsibility at Monarch. She was presented the award for the "Most Impactful Professsor" for the 2022/23 academic year by Dr. Tarek Khalil, the Founding President of Nile University.
Monarch is very proud of her accomplishment and it demonstrates the high calibre of Doctoral student at Monarch. She is an inspiration to her colleagues at Nile University as well as her fellow Doctoral candidates at Monarch. Many of the doctoral candidates and alummi at Monarch are presently in teaching positions at outside institutions and bring their experience and dedication to Monarch. Others in teaching positions from Monarch may be seen at this link.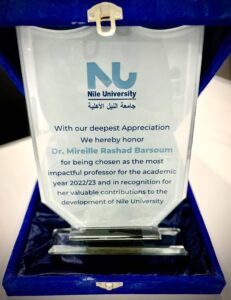 We wish Professor Barsoum continued success in her teaching career at Nile University and we look forward to her graduating Monarch and becoming an ambassador of the school.