Monarch is happy to announce the recent authorized research plan addressing the factors behind the creation of a digital organizational culture within Mobile Telephony companies in Ghana by Doctoral Candidate Ms. Amma Benneh-Amponsah.
Organizational culture and effective change are regarded as vital for organizational transformations including digital culture transformations (IGI Global, 2021). According to Henley (2021) adaptive cultures contribute positively to digital transformation. A McKinsey study by Goran, LaBerge and Srinivasan (2017) further highlights that cultural and behavioral practices were rated as the highest and the most significant challenge to attain digital priorities in organizations. The government of Ghana has prioritized digital transformation as a critical national program for national growth and development in partnership with the mobile telephony industry (MTI) (Ministry of Communication and Digitalization, 2021). According to the Ghana Statistical Services (2020), the Information & Communication sector which is predominantly the mobile telephony industry (MTI), income growth contribution grew from 67.6% in quarter one of 2019 to 77.4% in quarter one of 2020. According to Parviainen et al. (2017), digitalization has been identified as one of the major trends changing society and business. The essential component of culture for digitalization in organizations that operate in volatile, uncertain, complex and ambiguous (VUCA) environments is important for understanding the MTI transformation.
The contemplated research examines the Ghana MTI digital culture evolution through an analysis of research associated with organizational culture, change, transformation management, leadership, and digital culture. The research will seek to develop a new framework for digital culture essentials to assist a sustainable transformation in the mobile telephony industry in Ghana. Additionally, the research will analyze the impact that a digitally evolved TELCO could have on employee productivity, a digital mindset, adoption to new ways of working, and impact execution. This will be analyzed through a triangulated research method by studying existing academic literature together with company data and interviews of relevant stakeholders.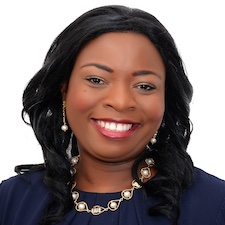 Ms. Amma Benneh-Amponsah is a Doctor of Business Administration in Leadership Candidate. She holds an MBA in International Business from Coventry University, UK and an Honours B.Sc. in Administration from the University of Ghana. She has also completed Executive Education at Columbia Business School in New York. At present, she holds the position of Executive Head of Human Resources at MTN Ghana. Previous to that she was Senior Manager HR and Senior HR Lead. She has been recognized as a leader in HR practices having been awarded HR Personality of the year for 2019 by Instinct Wave Awards and she was rated at the top 50 HR Practitioners in Ghana for the year 2018.