It is a pleasure for Monarch Business School to announce that Prof. Dr. Karina Ochis has been recently accepted in to the FOrbes Coaching Council for 2023. We wish Dr. Ochis the very best experience and hope that she is able to expand her network, gain visibility and find new insights for her research.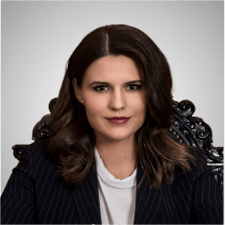 As a next generation leader, Dr. Karina Ochis holds the position of CEO at KO Sci-Fi Branding, President of The Elite Group, Executive Consultant, Author and Speaker. She is dedicated to the pursuit of life mastery while running innovative businesses and aims to be a transformative scholar across multiple fields and disciplines. She is a devoted professor, an impactful consultant, and a tireless advocate for the future generations through her speeches, publications, interviews and work.
She holds a Ph.D. In Business Research and Doctorate of Leadership Summa Cum Laude as well as an M.Phil. in Business Research Cum Laude from Monarch, an MA in Political Marketing from Rome Business School High Honours along with a BA degree  in Politics from the University of London. She holds further specialization certificates in Digital Strategy from the Online Marketing Institute in San Francisco, in Marketing and E-commerce from the London School of Economics and Political Science and in Macroeconomics from the University of California. Dr. Ochis is a beneficiary of various awards in several disciplines including the ACBSP Student Leadership Award, the Quilly Award in Hollywood California, Honorary Contribution Award from the Arab Trainers Union
Dr. Ochis' academic interests center around Multigenerational Management, Leadership, Personal Branding, Political Marketing, Virtual Reality and Succession Management. She is uniquely interested in managing inter-generational conflict for a better integration of the younger generational groups into the workforce.
Dr. Ochis is an accomplished public speaker having participated in many conferences and summits, including TEDx, Million Marketing Tour, The Romanian Academy of Economic Studies, 16th Fingerprint of Change Conference Istanbul, and The 5th Forum of Arab Trainers Union Cairo. Professor Ochis is a member of The US National Association of Experts, Writers and Speakers and the Arab Trainers Union. She is often interviewed in the popular and business press and has been featured in Entrepreneur and The Huffington Post.